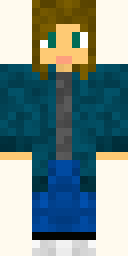 Geekofmanytopics is an active member of the Tumblrcrack server. Nicknames include VintageGeek or just Geek. She joined the server on November 29, 2013. Geek is 23 years old. Her favorite builds are redstone-activated doors and general interior decorating. Geek's ranch house includes a decorative bookcase wall that she is rumored to be in love with. The bookcase totally isn't the entrance to a secret government facility being built by Geek. No way. What kind of crazy idea is that?
Geek is fairly active in Skype calls with other various member of the Tumblrcrack server.
Builds/Shops
Edit
Geek's Horse Ranch
Area 420 - Secret Government Facility (unfinished)
The Mop Memioral Hospital (second floor unfinished)
located at The Mall
located at The Mall
located at Spawn Town
Pairings/Teams

Edit
Pairings:
Scalene Triangle (Geek x Bookcase)
Ad blocker interference detected!
Wikia is a free-to-use site that makes money from advertising. We have a modified experience for viewers using ad blockers

Wikia is not accessible if you've made further modifications. Remove the custom ad blocker rule(s) and the page will load as expected.